Common Factors/Causes Contributed to Seniors Falling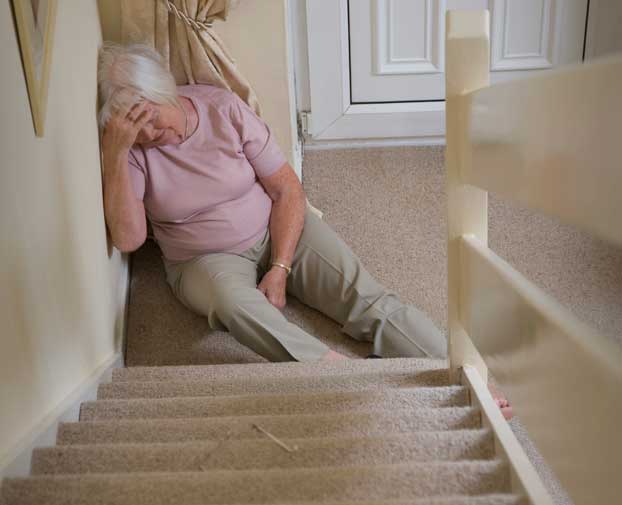 Common Factors/Causes Contributed to Seniors Falling
Even healthy, active seniors are at a greater risk of falls than younger adults and resulting injuries range from minor to severe depending on the circumstances. It is critically important to pay attention to risk factors including everything from changes in personal health to your physical surroundings. Research has identified many conditions that contribute to falling and you can learn about most of them in the details below. The good news is that many of these conditions can be changed or modified to help decrease the likelihood of falling.
Common Risk Factors and Tips to Avoid Them
Loss of Overall Strength – be aware of changes to your body and personal health. As you go about your normal routine each day take a moment to notice things that are becoming more difficult for you over time. If you notice a decrease in strength, particularly in your lower body, you may want to make accommodations to help alleviate concerns of falling such as using a walking stick or walker. Failure to exercise regularly results in poor muscle tone, decreased bone mass, loss of balance, and reduced flexibility so adding in a short exercise regime is helpful.
Walking & Balance – this could be caused from lower body weakness as mentioned above, or it could be the result of other issues. If you experience issues with balance you should contact a health care professional immediately to discuss it. This is one of the most likely risk factors that could lead to falls.
Vitamin D Deficiency – you will need a physician's assistance to tell you if you have a deficiency here. It is a simple test that can be done quickly. If you do have a deficiency, remedies should be at your physician's direction but are often handled with over the counter vitamin supplements.
Medications – the use of medicines, such as tranquilizers, sedatives, or antidepressants, even some over-the-counter medicines can affect balance and how steady you are on your feet. You should always read the side effects on medications you are taking and discuss them with your physician. Keep track carefully of all medications you are taking and when, particularly if it is something that is uncommon for you.
Surgeries & Diseases — many of the health conditions that plague seniors cause weakness in the extremities, poor grip strength, balance disorders and cognitive impairment. Similarly surgeries can leave an elderly person weak, in pain and discomfort and less mobile than they were before the surgery. Use extra caution in these situations.
Vision Impairment – vision changes are predominant and ever-evolving in seniors and can easily lead to missteps. If you are having difficulty seeing or if your vision is blurry, take action to remedy the issue as quickly as possible. If you have already addressed the issue, be sure to wear glasses that have been prescribed.
Foot Pain – there are many causes of foot pain, but regardless of the cause the pain tends to make people favor one foot or the other and therefore changes their normal stride. This can throw you off balance so you may want to use a walking stick if this is an issue. It's also important to wear comfortable, supportive, non-slips shoes to increase your stability and reduce the likelihood of falling.
Environmental hazards – your surroundings can present a high risk that you need to be continually aware of while out in public, at a friend or family member's house, or even in your own home. Dangers such as broken or uneven steps, throw rugs or clutter that can be tripped over are very common causes of falling.
While your surroundings may be very familiar in your home, the changing capabilities of a senior make things that were previously safe into new hazards. Reviewing a senior's physical surroundings is an activity that often gets overlooked, but it's crucial to take the time to walk through their residence every few months and re-evaluate. Consider adding new additions such as handrails along stairs or in the bathroom, or brighter lights throughout the home.
In Summary – Be Cautious and Take Preventative Action!
According to the Center for Disease Control and Prevention (CDC), one out of five falls causes a serious injury such as broken bones or a head injury. Be cognizant of changes in your abilities and adjust your routine accordingly. If you notice changes in your strength or balance, wait for someone to accompany you before attempting unusual activities. Reduce as many of the conditions listed above as possible to decrease the chances of falling. Take the time to review your surroundings and make changes where possible. It will be time well spent!
FREE EVALUATION
Local personal assessment at no additional cost to you.
Serving the Greater Phoenix Metro area since 2003, we can help you find adult group homes, retirement living, nursing homes and independent living options in the Arizona cities of:
Scottsdale | Paradise Valley | Sun City/Sun City West | Fountain Hills | Mesa | Chandler | Gilbert | Glendale | Peoria | Surprise | Tempe | Litchfield Park | Maricopa | Ahwatukee | Anthem | Queen Creek | Buckeye